Fort Collins Area Gutter Installation Company
Gutters and Downspouts
Stonescape gutters and downspouts are designed to properly direct rain and melted snow off your roof. Repairing and upgrading this exterior system on your home will help to keep water away from your foundation and from seeping underneath your shingles and behind the siding.

As a gutter installation company out of Fort Collins, we offer long-lasting seamless gutters, gutter protection, and strong, supportive gutter hangers to protect your home. Adding gutter protection leaf guards eliminate the need for constant gutter cleaning. Best of all, gutters come in dozens of colors to coordinate with your home's exterior.

Get a free quote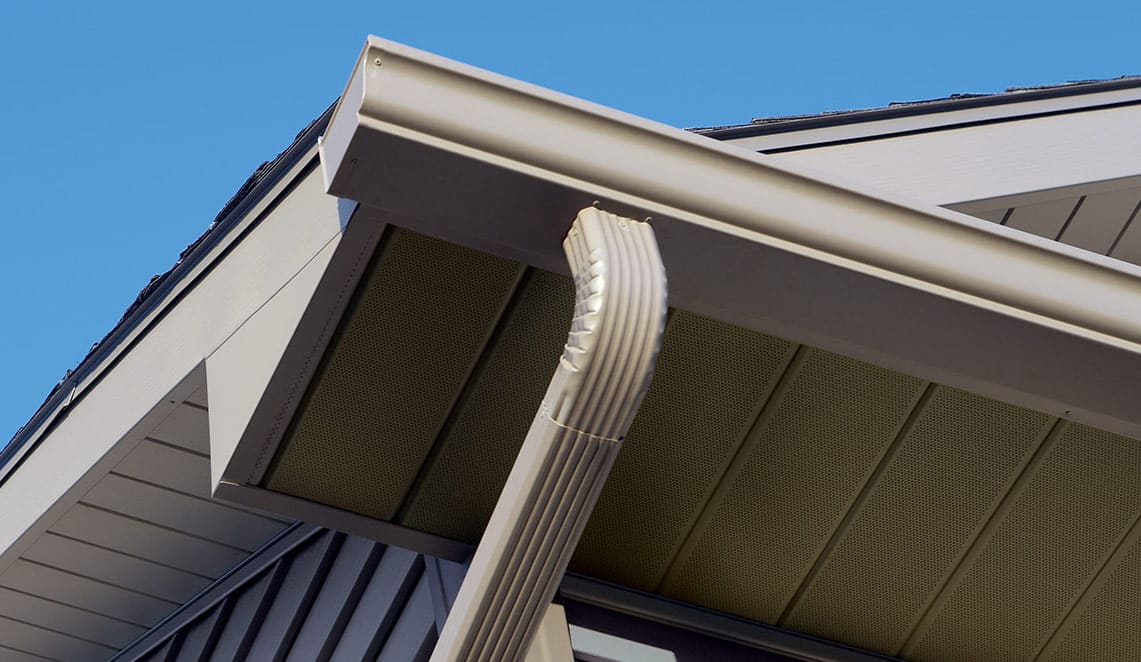 Sectional Gutter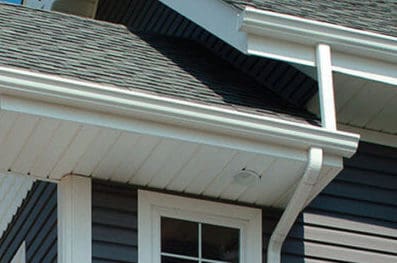 The strongest gutter system available for residential construction, Sectional Gutters are made from the highest quality aluminum. Ply Gem's patented free-floating hanging system coupled with engineered expansion joints ensures the gutters hold tight even as they expand and contract with changing temperatures. Our gutter installation company out of Fort Collins and Cheyenne can help you determine if they will be the right fit.

*Due to screen resolution limitations, product colors may not be exactly as shown.

Get a free quote
Seamless Gutter
Made from the best quality aluminum coil, Seamless Gutters for the Fort Collins area and the Front Range are flexible, durable, and designed to protect your home for years to come. You can choose from dozens of colors finished on one or both sides to blend in with your home's trim. Consider pairing with Ply Gem's gutter hangers and gutter protection for a sleek, effective system.

*Due to screen resolution limitations, product colors may not be exactly as shown.

Get a free quote
What property Owners Are Saying About Stonescape Steel Roofing
I am happy with my experience with Stonescape, and I would recommend them to anyone looking to have a roof installed. When compared to other roofers, their bid was the... read more most competitive and the salesman that I interacted with, Sean, was easily the most knowledgeable. The experience was comfortable from start to finish, and whenever minor issues did pop up, they were handled professionally and properly. You won't get sold things you don't need, nor will you be stuck with something that just doesn't cut it. Their warranty is also easily the best. You can't beat a 10 year leak warranty.

Marco B


February 8, 2021

Stonescape Steel Roofing took care of every detail and followed through on everything they said they would do. Sean explained everything thoroughly to me, walked me through the process, never... read more pushed for any service I wasn't interested in, and had great communication throughout. On the day of installation, the crew was professional, courteous and hard working, and the roof looks great! They took extra measures to protect our newly landscaped yard from any debris damage and did a great job cleaning up afterwards. I couldn't be happier with my experience and I highly recommend working with Stonescape Steel Roofing.Services: Roof inspection , Roof installation

Matthew Winheld


February 8, 2021

I am a commercial building owner in Fort Collins, so when I was in the process of renovating my property this summer I was eager to use a local roofer.... read more This paid off in spades when I contacted Sean at Stonescape Steel Roofing. He has consistently gone above and beyond in helping me with my roofing project, and even came up with an innovative way to address an interior insulation issue I needed to resolve. Sean thinks outside the box to get the job done. He communicates well during the process, and can be depended on to deliver what he has committed to doing. Best experience I could have ever hoped for! Thanks Sean for your integrity and expertise!Services: Gutter installation , Skylight installation , Roof repair

Gloria Kapelle


September 8, 2021

Had my roof replaced due to hail damage. Stonescape was great to work with from the initial inspection through the final installation, including working with my insurance company to make... read more sure the necessary repairs were covered. All the staff were professional and honest, making this a very easy process. The actual install happened in a single day, tear out through clean up, and they were able to work with my schedule as needed to avoid interruptions to a home-based business. 5-stars all the way, thank you Stonescape!Services: Gutter installation , Roof inspection , Roof installation

Nick Char Ault


February 8, 2021

The Owners of StoneScape Steel Roofing, Rob and Erika are two of the nicest, smartest and diligent people I have met to date in the roofing industry. I am... read more an attorney in this industry and I have met 100s of roofers over 30 years. When I need to find a solution to my constant ice damming problem at my home in Breckenridge, I met with the distributor of the impeccable product and asked who he recommended to do my roof. Without hesitation he had me call Sean Points, a project manager at StoneScape. Sean created a custom package for my home and he was onsite every step of the way. Obviously the owners' values and ethics trickled down to Sean as his promptness and professionalism was impeccable. Sean's system looks fantastic and it saves me 30% on my winter heating bills. My home is 40% warmer and I received a credit on my homeowners insurance for installing this roof. I highly recommend Sean and StoneScape for all of your roofing needs.Services: Gutter installation , Roof installation , Skylight installation

Evan Wolfe


December 8, 2021

Stonescape Steel Roofing was wonderful to work with. During the March 2021 snowstorm, a large branch fell on our roof and punctured it in many places, and tore off... read more our gutter. Stonescape was able to come out immediately to patch the holes and give us a temporary gutter while we dealt with insurance for a roof replacement. Erika also worked with us and our insurance company to make it as pain-free as possible. Her whole team is knowledgeable, professional and respectful or our time. I would highly recommend Stonescape Steel Roofing.Services: Gutter installation , Gutter repair , Storm / wind damage roof repair , Roof inspection , Roof installation , Roof repair

Fort Collins Area Chamber of Commerce


September 8, 2021
Contact Us Today For More Information
Roof Maintenance Package
Gutter Cleaning
You will receive a complete gutter cleaning at the time and date of your choice. We generally recommend Springtime or after the leaves fall if your property is dense with trees.

We often find that the lack of gutter cleaning can cause severe roof leak issues. Leaves and debris can pile up blocking proper drainage. This causes water to spill out the sides of the gutters and can allow water to seep under your roofing system.
Full Inspection
You will receive two inspections for your roof and gutters. We generally will conduct one at the end of winter and another at the end of summer and storm season. This benefit is great for keeping the fly-by-night roofing companies off your roof.

With a full-scale inspection, there won't be an area of your roof or gutters that won't be addressed. We will check the overall condition of your roofing system, all flashing, roof penetrations, and areas with sealant. The gutters will be checked for damage-causing leaks, as well as sealant points.
Roof Repair
You will receive up to $1,000 worth of roofing repairs if needed. Over time the harsh UV rays can deteriorate sealant points on your flashing, penetrations, and gutters. We will update all weak points to prevent potential roof leaks.

Included are minor repairs for missing or torn shingles. It is our goal to extend the life of your roofing system and give you peace of mind in knowing it is in great shape.
Get $25 OFF for a limited time with the code: Tune-Up
Sign Up Today