Recent Commercial Roof Work

Longs Peak Water District
Architectural asphalt shingles offer the heaviest weight and widest array of color options in their class, as a result, allowing you to create or re-create the ideal look for your home or business with confidence. Further Backed by a 100+ year legacy of trusted manufacturing performance, all Landmark shingles include CertainTeed's industry-leading, lifetime-limited warranty.
View Project Details
Brighton Fire Department Station 74
Made with CertainTeed Modified Bitumen Roof System & CertainTeed Asphalt Landmark Shingle.
View Project Details
Rocky Mountain Church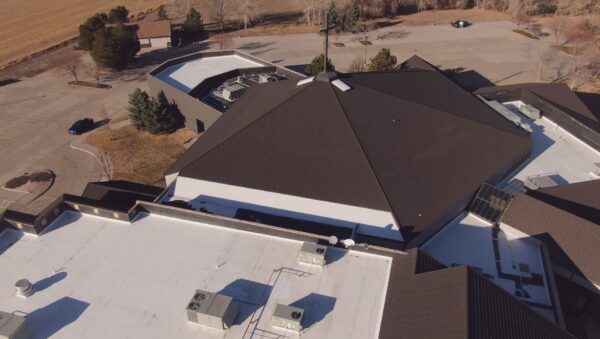 Metal roofing with sections of TPO flat roofing: one of the most popular metal roofing styles for churches with multi-level roofing, a true beauty, durability, longevity, simplicity, versatility, energy efficiency, and remarkably clean fresh bold look.

If you're looking for a modern style of metal seams and clean lines, consider installing this system on your church or commercial building. Contemporary look and feel, along with its unmatched durability, longevity, and energy efficiency.
View Project Details