Commercial Roofing for Kansas City and the Surrounding Area
Kansas City Commercial Roof Repair & Solutions
Stonescape Steel Roofing is a Kansas City commercial roofing contractor with decades of combined experience. We strive to provide the best service imaginable to minimize your headaches, limit business disruption, and protect your commercial property.

From flat roofs that have TPO, EPDM, and PVC membranes to sloped roofs that may be metal or even asphalt shingles, Stonescape has a team of dedicated technicians that can assess your issues and present a practical solution.
Commercial Roofing Systems
TPO
A budget-friendly flat roof system
TPO membranes are a budget-friendly, ideal choice for flat roofs. With exceptional reflectivity, this membrane can lead to Energy Star and LEED credits. The life expectancy ranges from 15-30 years and you can get 15-25 year warranties.

EPDM
Durable "rubber" flat roof system
EPDM membranes are a synthetic rubber system that is very durable. Available in black or white, EPDM can be fully adhered, ballasted, or mechanically attached. It's life expectancy ranges from 15-30 years with 5-20 year warranties available.

PVC
Class A fire rating system great
for restaurants
Naturally, fire-retardant, PVC membranes are beneficial for restaurant roofs. Being PVC is white, it reflects UV rays and can provide Energy Star and LEED credits. This single-ply membrane has a life expectancy of 15-30 years and warranties up to 25 years.

MOD BIT
Ideal replacement for built up roofs
This asphalt-based multi-ply membrane can accommodate any climate and is made to withstand harsh exposure and environmental elements. Mod Bit has a life expectancy of 20 years or longer and warranties that range from 2-20 years.

Metal
A lasting option for sloped roof systems
If you have a sloped commercial roof on your Kansas City property, traditional metal or stone coated steel is the most durable option. With a life expectancy exceeding 50 years, metal roofing will outlast the storms. You can find an assortment of profile and color options to fit your needs!

Extend the Life of Your Kansas City Commercial Roof
Did you know that replacement should only be considered a last step? At a fraction of the cost of replacement, a roof coating can extend the life of your commercial roof in Kansas City by 10 years! With the ability to add no dollar-limit warranties, you can save money to put back into your business while getting energy savings and durability to protect your property. Contact Stonescape Steel Roofing today to get your free roof assessment and see if a roof coating is right for your property.
Contact us
What property Owners Are Saying About Stonescape Steel Roofing
I worked with Stonescape over the last year on my roof claim. With the help of a public adjustor, my claim went from replacing 6 shingles (from wind damage) to... read more a full roof replacement. Sean estimated out 3 options (good, better, best) and we went with a metal roof upgrade and an insulation install. We have a mountain cabin that had no ceiling insulation, so this was desperately needed. I can already tell the roof system is making a difference, I'm excited to see how the winter is and how much warmer our home will be. We are very happy with our new roof and are thrilled we don't have to worry about asphalt shingles anymore! Sean and team are great and took care of us. I highly recommend Stonescape!Services: Roof installation , Skylight installation

Jessica Ellis


February 8, 2021

My entire experience with Stonescape was excellent. Stonescape was with me all the way through the process, from meeting with the insurance adjuster, getting more supplements from the insurance... read more company, helping me with which shingles to pick. etc etc. All employees were friendly and helpful. The crew that came to our house was amazing! They stripped and replaced 63 squares of shingles in the same day! That is 2 full house roofs! The crew did an excellent job cleaning up after themselves, I had zero trash left around the house. I would recommend them every day of the week.Services: Storm / wind damage roof repair , Roof inspection , Roof installation

Sara Standing


June 8, 2021

The Owners of StoneScape Steel Roofing, Rob and Erika are two of the nicest, smartest and diligent people I have met to date in the roofing industry. I am... read more an attorney in this industry and I have met 100s of roofers over 30 years. When I need to find a solution to my constant ice damming problem at my home in Breckenridge, I met with the distributor of the impeccable product and asked who he recommended to do my roof. Without hesitation he had me call Sean Points, a project manager at StoneScape. Sean created a custom package for my home and he was onsite every step of the way. Obviously the owners' values and ethics trickled down to Sean as his promptness and professionalism was impeccable. Sean's system looks fantastic and it saves me 30% on my winter heating bills. My home is 40% warmer and I received a credit on my homeowners insurance for installing this roof. I highly recommend Sean and StoneScape for all of your roofing needs.Services: Gutter installation , Roof installation , Skylight installation

Evan Wolfe


December 8, 2021

Stonescape Steel Roofing took care of every detail and followed through on everything they said they would do. Sean explained everything thoroughly to me, walked me through the process, never... read more pushed for any service I wasn't interested in, and had great communication throughout. On the day of installation, the crew was professional, courteous and hard working, and the roof looks great! They took extra measures to protect our newly landscaped yard from any debris damage and did a great job cleaning up afterwards. I couldn't be happier with my experience and I highly recommend working with Stonescape Steel Roofing.Services: Roof inspection , Roof installation

Matthew Winheld


February 8, 2021

I am a commercial building owner in Fort Collins, so when I was in the process of renovating my property this summer I was eager to use a local roofer.... read more This paid off in spades when I contacted Sean at Stonescape Steel Roofing. He has consistently gone above and beyond in helping me with my roofing project, and even came up with an innovative way to address an interior insulation issue I needed to resolve. Sean thinks outside the box to get the job done. He communicates well during the process, and can be depended on to deliver what he has committed to doing. Best experience I could have ever hoped for! Thanks Sean for your integrity and expertise!Services: Gutter installation , Skylight installation , Roof repair

Gloria Kapelle


September 8, 2021

Had my roof replaced due to hail damage. Stonescape was great to work with from the initial inspection through the final installation, including working with my insurance company to make... read more sure the necessary repairs were covered. All the staff were professional and honest, making this a very easy process. The actual install happened in a single day, tear out through clean up, and they were able to work with my schedule as needed to avoid interruptions to a home-based business. 5-stars all the way, thank you Stonescape!Services: Gutter installation , Roof inspection , Roof installation

Nick Char Ault


February 8, 2021
Repairs and Maintenance Packages

When you get a car, you understand that regular scheduled maintenance is vital to ensuring it runs properly for years to come. The same should be said about your roof, making preventative maintenance necessary.

Stonescape offers a variety of maintenance packages to ensure your roof gets the care it needs. From regular inspections, cleanings, and repair work to basic maintenance like resealing penetrations, you can enjoy peace of mind knowing you are protected.

Often enough, all that is required is a repair. With our team of certified commercial roof technicians in Kansas City, we can assess the issues at hand and repair what is necessary to ensure your roof lasts even longer. Contact us today for a Kansas City commercial roofing contractor that bats for you!

Commercial Roof Repair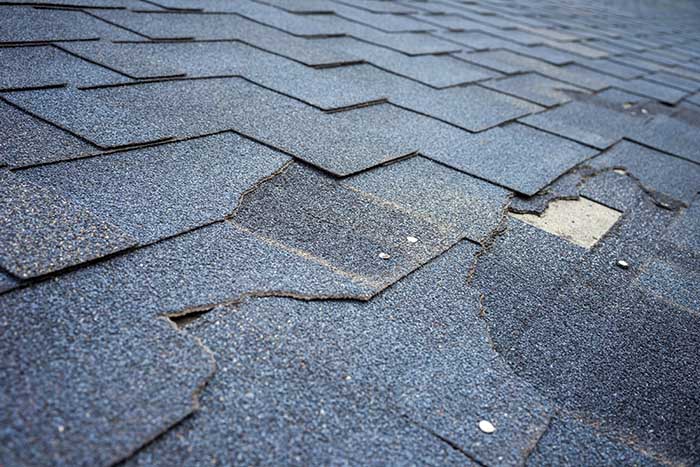 Recent Commercial Roof Work

Longs Peak Water District
Architectural asphalt shingles offer the heaviest weight and widest array of color options in their class, as a result, allowing you to create or re-create the ideal look for your home or business with confidence. Further Backed by a 100+ year legacy of trusted manufacturing performance, all Landmark shingles include CertainTeed's industry-leading, lifetime-limited warranty.
View Project Details
Brighton Fire Department Station 74
Made with CertainTeed Modified Bitumen Roof System & CertainTeed Asphalt Landmark Shingle.
View Project Details
Rocky Mountain Church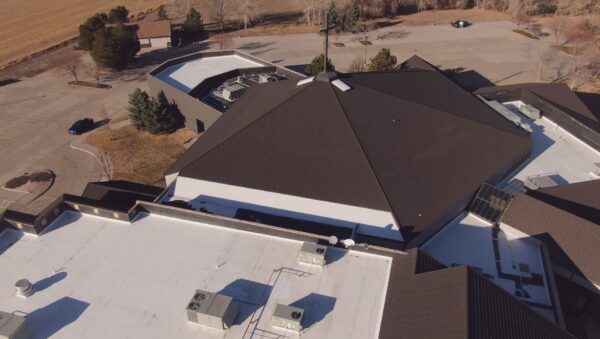 Metal roofing with sections of TPO flat roofing: one of the most popular metal roofing styles for churches with multi-level roofing, a true beauty, durability, longevity, simplicity, versatility, energy efficiency, and remarkably clean fresh bold look.

If you're looking for a modern style of metal seams and clean lines, consider installing this system on your church or commercial building. Contemporary look and feel, along with its unmatched durability, longevity, and energy efficiency.
View Project Details
Contact us for a Kansas City commercial roofing contractor that you can trust