About Stonescape Steel Roofing: Fort Collins Area Local Roofing Experts
Who We Are
Stonescape Steel Roofing is a locally-owned and operated roofing company that designs and installs custom metal roofs and more. Founded by Erika Girard, the goal of this organization is to provide homeowners with a roofing solution that lasts 50-100 years.

Stonescape has grown from a family with knowledge into an award-winning business operating out of Fort Collins, Colorado, and Cheyenne, Wyoming thanks largely due to its talented team members with over 150 years of combined experience, who are hardworking experts at what they do - designing any type or size steel roof you need.

View Our Work
Honesty ◆ Integrity ◆ Quality
Honesty, Integrity, and Quality are the backbone of Stonescape Steel Roofing. Striving to connect customers with a practical solution that fits their needs, backed by a 10 year workmanship warranty is just how we achieve that.

Read Our Pledge to You
What property Owners Are Saying About Stonescape Steel Roofing
I am a commercial building owner in Fort Collins, so when I was in the process of renovating my property this summer I was eager to use a local roofer.... read more This paid off in spades when I contacted Sean at Stonescape Steel Roofing. He has consistently gone above and beyond in helping me with my roofing project, and even came up with an innovative way to address an interior insulation issue I needed to resolve. Sean thinks outside the box to get the job done. He communicates well during the process, and can be depended on to deliver what he has committed to doing. Best experience I could have ever hoped for! Thanks Sean for your integrity and expertise!Services: Gutter installation , Skylight installation , Roof repair

Gloria Kapelle


September 8, 2021

My entire experience with Stonescape was excellent. Stonescape was with me all the way through the process, from meeting with the insurance adjuster, getting more supplements from the insurance... read more company, helping me with which shingles to pick. etc etc. All employees were friendly and helpful. The crew that came to our house was amazing! They stripped and replaced 63 squares of shingles in the same day! That is 2 full house roofs! The crew did an excellent job cleaning up after themselves, I had zero trash left around the house. I would recommend them every day of the week.Services: Storm / wind damage roof repair , Roof inspection , Roof installation

Sara Standing


June 8, 2021

Had my roof replaced due to hail damage. Stonescape was great to work with from the initial inspection through the final installation, including working with my insurance company to make... read more sure the necessary repairs were covered. All the staff were professional and honest, making this a very easy process. The actual install happened in a single day, tear out through clean up, and they were able to work with my schedule as needed to avoid interruptions to a home-based business. 5-stars all the way, thank you Stonescape!Services: Gutter installation , Roof inspection , Roof installation

Nick Char Ault


February 8, 2021

Stonescape Steel Roofing was wonderful to work with. During the March 2021 snowstorm, a large branch fell on our roof and punctured it in many places, and tore off... read more our gutter. Stonescape was able to come out immediately to patch the holes and give us a temporary gutter while we dealt with insurance for a roof replacement. Erika also worked with us and our insurance company to make it as pain-free as possible. Her whole team is knowledgeable, professional and respectful or our time. I would highly recommend Stonescape Steel Roofing.Services: Gutter installation , Gutter repair , Storm / wind damage roof repair , Roof inspection , Roof installation , Roof repair

Fort Collins Area Chamber of Commerce


September 8, 2021

The Owners of StoneScape Steel Roofing, Rob and Erika are two of the nicest, smartest and diligent people I have met to date in the roofing industry. I am... read more an attorney in this industry and I have met 100s of roofers over 30 years. When I need to find a solution to my constant ice damming problem at my home in Breckenridge, I met with the distributor of the impeccable product and asked who he recommended to do my roof. Without hesitation he had me call Sean Points, a project manager at StoneScape. Sean created a custom package for my home and he was onsite every step of the way. Obviously the owners' values and ethics trickled down to Sean as his promptness and professionalism was impeccable. Sean's system looks fantastic and it saves me 30% on my winter heating bills. My home is 40% warmer and I received a credit on my homeowners insurance for installing this roof. I highly recommend Sean and StoneScape for all of your roofing needs.Services: Gutter installation , Roof installation , Skylight installation

Evan Wolfe


December 8, 2021

Stonescape Steel Roofing took care of every detail and followed through on everything they said they would do. Sean explained everything thoroughly to me, walked me through the process, never... read more pushed for any service I wasn't interested in, and had great communication throughout. On the day of installation, the crew was professional, courteous and hard working, and the roof looks great! They took extra measures to protect our newly landscaped yard from any debris damage and did a great job cleaning up afterwards. I couldn't be happier with my experience and I highly recommend working with Stonescape Steel Roofing.Services: Roof inspection , Roof installation

Matthew Winheld


February 8, 2021
A Steel Roofer With Value
As a Residential and commercial company, Stonescape provides local roofing in the Cheyenne and Fort Collins area and has no limits. Offering stone-coated steel, metal, asphalt shingles, and more for your home. While being able to offer EPDM, TPO, metal, and more for your business. The process always starts with a full inspection, so you know what exactly is going on with your roof. Our friendly consultants will walk you through the many options that are practical to your needs, with a variety of cost-effective options for you to choose from. Stonescape Steel Roofing can minimize ice damming, heat issues, and ventilation problems, all through a permanent roofing solution.

Roofing Services We Offer
Residential Roof Replacement & Installation
When it comes to your home, we want it to be protected, as well as your family. We offer a variety of roofing system options for you to choose from. All backed by our 10-year workmanship warranty on top of manufacturer warranties.

Quality service and products are always promised, along with honesty and integrity. Whether you need your roof inspected for an insurance claim or you want to upgrade to a hail-resistant system, we have your back with our knowledge of local roofing in the Fort Collins area.

LEARN MORE
Commercial Roofing
We understand that commercial roofing installation and replacement can be costly. We strive to do the job right the first time so your business is protected.

From new builds to commercial replacements, we have the ability to meet your needs. Experienced in insurance claims, reroofs, and bidding new construction, we can handle a job of any size.

LEARN MORE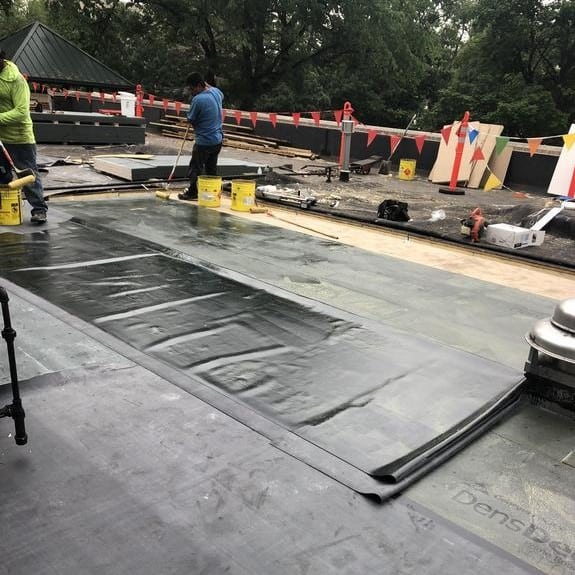 Roof Repair
Our first objective is to assess whether your issues can be fixed with a repair. Our trained emergency roofer in Fort Collins and Cheyenne will be able to evaluate the problems and advise on proper solutions.

When it comes to your commercial property, we offer options from roof repair, roof coatings to commercial maintenance packages. Preventative maintenance can save you from costly issues down the road.

Residential Roof Repair
Commercial Roof Repair
Let us Know How We can Help